A Message from the President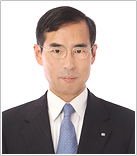 The stainless steel is used for the way also for everybody to often know as a metal with a deeply connection when our living by anticorrosion and the function in each district of chemical equipment including the building, a car, an electric product, furniture, and the heating equipment, etc. It is in the improvement of life and an important role to development of industry.
Mory Industries is a company which was born in 1929 in Sakai City as former for bicycle forks maker. (Processing goods of steel pipe) It paid attention to this stainless prospect, and it began producing in the weld stainless steel tubing in 1959.
We manufacture a wide variety of products in this category, in this category, including stainless steel clad tube, thin wall stainless steel tube, decorative stainless steel tube, and various types of stainless steel pipes for conventional applications.
We have also developed numerous special application for our tubing, our finished products now include clothes drying pole, flexible tube, and heat exchangers by increasing the proportion of total production devoted to such items, we have further broadened our corporate foundation. Moreover, it worked on the development of the stainless steel made goods such as a flat bar, angle bar, and round bars as products other than the pipe in 1983, and it has developed today by the time it grows up to an eminent stainless maker, and it is said "Mory Industries of a stainless pipe" by Japan which boasts of 4000 tons in the monthly production.
Mory Industries has been manufacturing steel pipe and tubing for more than 80 years. The future, it wishes a stainless industry to be able to contribute to develop a little through pioneering new demand.
We pledge to maintain our innovative and distinctive style of doing business, thus ensuring that we will continue to meet our customers' high expectations well into the future.
We look forward to continuing to provide our customers with the high levels of service and dedication that have become our hallmark.
Hiroaki Mori, President